Enterprise Angular, 3rd Edition
Free eBook About Enterprise-Scale Angular-Architectures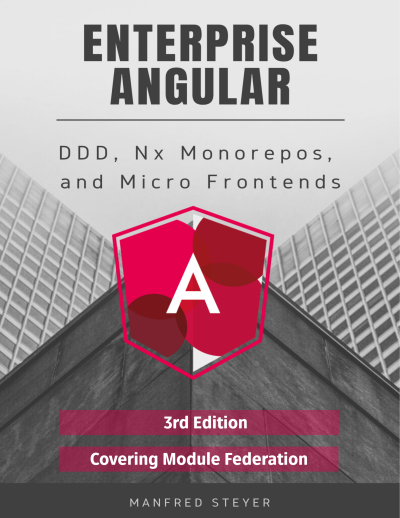 Contents
Learn how to build enterprise-scale Angular applications which are maintainable in the long run:
- Planing and implementing your Strategic Design (DDD) with Angular and Nx
- Enforcing your architecture
- From domains to micro frontends
- Building micro frontends with the brand new Module Federation and Angular
- Dynamic Module Federation and dealing with version mismatches
- Building plugin-systems
Extent
- 100 pages, 11px font size with pictures, and code listings
- Formats: pdf, epub (Android and iOS), and mobi (Kindle)
Get It For Free!
Subscribe to our newsletter to get your free copy of our eBook Enterprise Angular, 3rd Edition, as a welcome present! You can unsubscribe anytime again.
Become an Angular professional
with our training
for sustainable enterprise solutions
with many real-world examples and exercises
who are well connected to the Angular community
so that your project will be a success
explain complex technical concepts in an understandable way